The magnetic bicycle skirt clip
Our product, the Poupoupidou
Imagined, designed and made in Nantes, the Poupoupidou is a small, design and convenient device aimed at holding your skirt when you ride a bike.  You could find it on sale in our Poupoupidou shop and on our website.
Technical features :

The Poupoupidou comes in the form of a soft shell in which a standard clothespin and two magnets allow us to fix the device under the saddle. Every saddles are normally equipped with two metal rails on which the magnets will be hang.
The magnets are easy to remove, which assure the cyclist safety and their clothing integrity.
The Poupoupidou presentation video : http://youtu.be/vYZugcQJ6mA
The Poupoupidou shop, a rally of original bike accessories :
Located in Nantes, our shop doesn't only provide your skirts protection, but also the fixing, the maintenance and a huge variety of revolutionary accessories for your bicycle.
Revolutionary and new products!
Our products could be lovely gifts for any occasions :
Let us surprise you with some clever accessories, useful in every kind of situation, such as riding (and singing) in the rain. Indeed, from now on, you will can attach your umbrella on your bike thanks to our brand-new fixing device !
And for the most artistic of you, enjoy your bike customization with our wonderful items; a handlebar vase, fancy bells or even colorful baskets bike! Moreover, you could customize yourself with the Poupoupidou T-shirts!
The Poupoupidou shop will satisfy all your needs !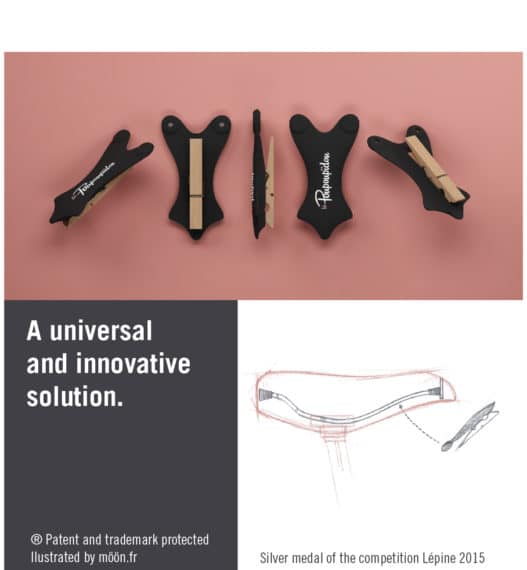 They talk about us …